[Review] She Was Pretty
By Dira Sabrina - Wednesday, March 09, 2016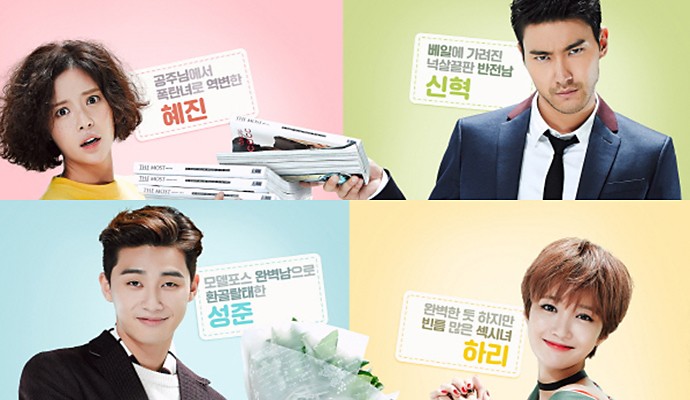 Hai hai, I'm back with another korean drama review post! Sekarang aku mau ngereview She Was Pretty, drama tahun 2015. Aku jadi suka nonton drama korea emang gara-gara aku nonton Cheese in the Trap (baca
review cheese in the trap
). Nah abis itu ya aku mulai mikir drama korea apalagi yang terkesan 'mainstream' di kalangan para penggemar drakor, dan aku kepikiran She Was Pretty.
Menurut aku, She Was Pretty adalah drama terbaik sejauh yang aku tonton. Aku emang baru nonton dua drama korea seumur hidup, dan setelah abis nonton She Was Pretty aku mau cus ke Warm and Cozy xD soooo yeah, i'll make my own review about this one.
Judul: She Was Pretty (Hangul:

그녀는 예뻤다

)

Network: MBC
Episodes: 16
Release Date: September 16 - November 11, 2015
Summary: Saat Seong Joon (Park Seo Joon) masih sekolah, dia gendut dan tidak punya teman. Tetapi, Kim Hye Jin (Hwang Geun Eum) yang cantik dan populer, bersedia menjadi temannya. Hye Jin tidak akan membiarkan siapapun mengganggu Seong Joon. Bertahun-tahun berlalu, Seong Joon menjadi pria mapan, sukses, serta sangat tampan. Ia bekerja di The Most USA. Tetapi, tidak bagi Hye Jin. Dia kesulitan mencari pekerjaan, dan fisiknya sangat berubah. Ia tidak lagi cantik, maupun populer. Suatu saat, Seong Joon kembali ke korea, dan ia ingin bertemu dengan Hye Jin lagi. Tapi, Hye Jin berpikir kalau dia tidak mungkin muncul di hadapan Seong Joon dengan fisik seperti itu. Akhirnya ia meminta tolong sahabatnya, Min Ha Ri (Koo Joon Hee) untuk berpura-pura menjadi Hye Jin. Timbullah kesalahpahaman dan berbagai konflik di kehidupan mereka bertiga.
[Review]
Disini, Park Seo Joon ganteng banget :v dan di drama ini, bang Choi Siwon main juga loh! Dia meranin Kim Shin Hyeok, seorang reporter The Most yang kerja di bagian editor. Disini, Siwon tuh meranin sosok yang tengil, jahil, tapi punya rahasia yang nggak ada satupun orang yang tau. Dan Seo Joon juga meranin seorang pria yang mapan, galak, serem, tapi punya sisi romantis jugaa :3 Dia jadi galak karena dia jadi wakil pimpinan redaksi di The Most Korea untuk naikin rating penjualan The Most di Korea. Makanya galak :v
Ekspektasi aku disini, Hye Jin bakal di makeover ala ala The Princess Diaries gitu. Ternyata enggak. Ada sih sebenernya bagian dia mau mengubah penampilan, tapi cuma satu adegan. Ekspektasi aku juga, Hye Jin bakal di makeover sama Ha Ri yang jago make up dan fashion.
Adegan yang paling ku suka disini tuh pas Ha Ri ngajarin Hye Jin tentang fashion pake majalah The Most, karena Hye Jin sama sekali gatau apa-apa tentang fashion. Hye Jin dimarahin sm Seong Joon karena dia kerja di majalah The Most, tapi Hye Jin sendiri ngga pernah baca The Most. Saat itu, Seong Joon nggak sadar kalo Hye Jin yang sering dia marahin adalah Hye Jin teman masa kecilnya. Dia masih nganggep kalo 'Hye Jin' yang sebenernya itu si Ha Ri. Aku rada gregetan juga kalo setiap Ha Ri alias Hye Jin kw 1 ketemu sama Seong Joon >.<
Seong Joon sendiri suka ngerasa kalau Hye Jin yang selama ini suka dia marahin tuh udah kayak teman lamanya. Selera mereka berdua sama. Tapi, dia ngerasa 'Hye Jin' yang selama ini dia anggep Hye Jin beneran tuh kayak orang asing yang baru kenal. Yah, namanya juga salah paham, jadi Seong Joon ya yakin nggak yakin.
Aku suka banget drama iniii, paraaaah! Nggak menye menye, dan seru bangettt! Di drama ini juga nggak nunjukin Hye Jin - Seong Joon - Ha Ri ajaa, percintaan tokoh pendukung lain juga diliatin, kayak love story-nya Han Seol (Shin Hye Soon) sama Joon Woo (Park Yoo Hwan).
Bagi drakor-ers pasti udah tau banget sama drama ini, cuma, aku rekomen drama ini banget buat para drakor-ers wanna be! xD